Summer is almost here and you are ready for it! We know you want the perfect casual outfits to keep you comfortable and cute on those scorching summer days. Summer accessories are much more than a cute pair of our cute earrings or a layered necklace. When we are talking about comfortable Summer fashion, there are stunning pieces that not only pull the entire look together but are functional as well. We have purses, crossbody bags, shoes, and other accessories ready for your wardrobe! Get ready for all of the sun and fun that summer adventures have to offer with clothing and...
---
Talented Friends Boutique strives to deck you out from head to toe with our trendy and affordable fashions and accessories! Our clothing and accessories is sure to complement your own unique style! We pride ourselves in providing our customers with top of the line products at an affordable price. We carry sizes Small - 3XLarge, a comfy fit for every body! Our wide array accessories including necklaces, bracelets, earrings, handbags, caps, and more provide lots of choices for our customers. Avoid missing out on new item arrivals by turning on the push notifications for our app now! We want to enhance your shopping experience with friendly customer service and super fast shipping! We often hear our customer refer to us as TF, saying it means Totally Fun!
---
Talented Friends Boutique (Lana's Store) Celebrated our 5 year anniversary on January 21, 2022! WoW! FIVE Years! Unbelievable! We have the best customers in the world!!  Over the past 5 years I have learned so much about the boutique world, myself, and those that shop with me.  What a blessing!   At the Chamber Of Commerce Banquet March 3rd Talented Friends Boutique was name the 2022 Business of The Year! What an incredible honor!  When I opened our downtown location one of the goals was to promote all of Ballinger. I strive to make  our out of town and local...
---
Isn't Life wonderful!?!?  I think it is and all of you wonderful folks that take time to stop by Talented Friends make it more wonderful!!   If you haven't already I'd like to invite you to hop on over and ask to join the Talented Friends VIP FB Page!!  I post new arrivals, future arrivals, and other important info (important to me anyways!!). ;-).    If you have any questions about products or etc just drop me a little message via the "Contact Us" form here on the website!!    Have a FABULOUS day!!
---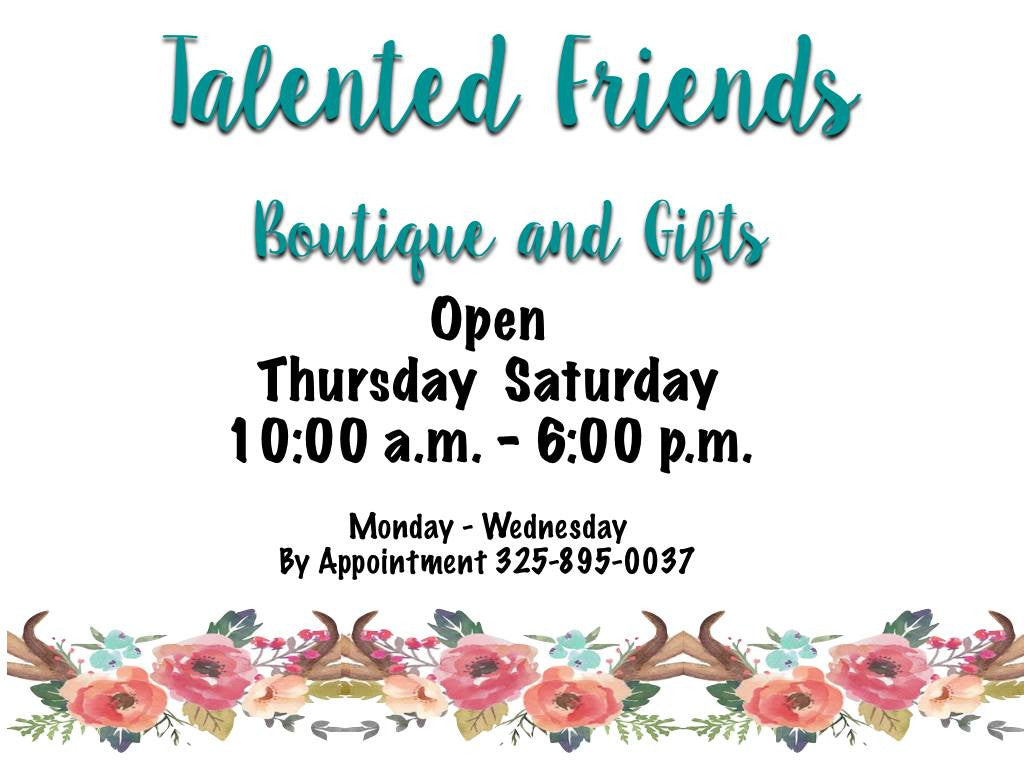 Life is wonderful!! Little overwhelming at times too!! With opening a store front and getting a new website things have been busy and hectic around Talented Friends!!  It's been a good busy and hectic time!  Looking forward to getting  the new website filled with merchandise and learning all about it!!    Thank you for your patience!! Have a blessed day!!